The 2023 Shenzhen International Forum on Ro-Ro Automotive Logistics, hosted by Shenzhen Port Group, took place on the afternoon of September 22nd at the Expo in the Convention and Exhibition Centre. Representatives from global ports, shipping, logistics, and automobile enterprises gathered to focus on the development of China's automobile Ro-Ro logistics international channel. Together, they discussed and exchanged ideas about the construction of an integrated service system for the automobile supply chain. Shenzhen, with its vibrant automotive industry, eagerly awaits your arrival. The forum was attended by over 200 individuals, which included esteemed authorities from Shenzhen, representatives from friendly ports associated with Shenzhen Port, influential leaders from the new energy automobile industry, renowned experts in global shipping and logistics, top-tier enterprises involved in automobile trade, and distinguished scholars.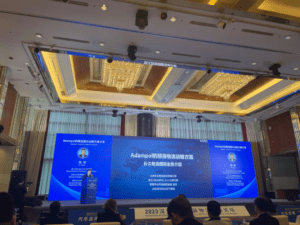 Changjiu Logistics' international business team and ADAMPOL S.A., a significant subsidiary of Changjiu Logistics, actively participated in the forum, showcasing their remarkable business offerings and international solutions.
Established in Poland in 1990, ADAMPOL S.A. specializes in automotive logistics, serving various European countries, including Poland, Spain, Belgium, Russia, and more. With an extensive network of steam and sea transport routes, ADAMPOL S.A. stands as a crucial player on the field. In particular, their strategic location in Małaszewicze, Poland provides valuable station resources and serves as a core asset for Changjiu Logistics' involvement in the "One Belt, One Road" initiative. Undoubtedly, ADAMPOL S.A. plays a pivotal role along the "One Belt One Road" initiative.
In 2015, Changjiu Logistics opened the China-European liner train. In 2021, they acquired 30% of ADAMPOL S.A. This acquisition helps Changjiu Logistics develop in international logistics, market planning, and network development. It also strengthens their international business capacity and supports national brands in going global.